CALIFORNIA'S CONFLICTED HISTORY ON SLAVERY IS CENTRAL TO REPARATIONS PUSH FOR BLACK PEOPLE.
Dustin Gardiner Oct. 18, 2020 
To understand the quest for reparations for African Americans in California, supporters say, it's necessary to take a hard look at the prevalence of slavery in the early days of the "free" state.
California joined the union as a non-slavery state in 1850, but its reputation as a melting pot where racism dissolved in the fields of the Gold Rush was a folklore that masked a grim reality. Hundreds of enslaved people were already living in the state at the time of its admission, forced to work in mines and on plantations.
Many of these first Black residents weren't set free when the state passed its Constitution, and the state permitted white prospectors from the South to keep slaves if they planned to eventually return to their home states.
"In the South you had the cotton fields, and here we had the gold mines," said Tammerlin Drummond, a spokeswoman for the American Civil Liberties Union of Northern California who has researched the history of slavery in California. "It was widely practiced and it was out in the open. This kind of anti-Black racism was baked into the founding of the state."https://tpc.googlesyndication.com/safeframe/1-0-37/html/container.html
Reparations advocates say the state has yet to make amends for its legacy of racism and the thread of anti-Black bias that has endured through the years, from redlining in housing policy that lasted into the 1960s to police brutality in more recent decades.
They say the remedy is California's new task force to develop proposals for reparations for African Americans, those descended from enslaved people and harmed by its aftermath.
Gov. Gavin Newsom and state legislators recently created the task force, which is expected to begin its work by next summer. Its nine members, to be appointed by the governor and legislative leaders, will document the state's history of slavery and recommend remedies to the Legislature by June 2022.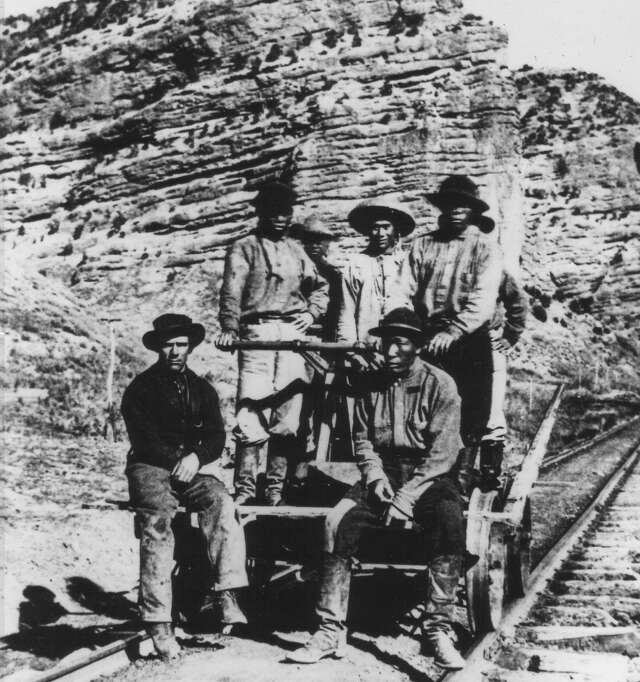 Seven men on railroad handcar. Shows men on handcar; they are Chinese, white, and African-American.Photo: Seaver Center for Western History
The task force proposal that Newsom signed into law, AB3121, gained momentum in the Legislature this summer when protests erupted nationally over racial inequality after a white police officer in Minneapolis killed George Floyd, a Black man, by kneeling on his neck for nearly nine minutes during an arrest.
Assemblywoman Shirley Weber, the San Diego Democrat who carried the proposal, said Floyd's death and the aftermath made many people more receptive to re-examining what she characterized as a false narrative about California's past.
"California has come to terms with many of its issues, but it has yet to come to terms with its role in slavery," she said before Newsom signed her bill Sept. 30.
The ACLU has documented California's role in sanctioning slavery through a public education campaign, "Gold Chains: The Hidden History of Slavery in California." The project notes numerous court cases involving enslaved people who sought freedom in California, with mixed results.
In one case in the 1850s, three Black men who had bought their freedom were seized from their cabin during a midnight raid in Placer County after their former owner claimed they were runaway slaves.
The men lost their case at the state Supreme Court and were deported to Mississippi on a steamboat, though some accounts hold that they later escaped in Panama. Their case was one of the first involving the state's Fugitive Slave Law of 1852, which allowed Southerners to keep enslaved people who had been brought to California before its admission as a state.
Historians say there were many such cases of slaves being returned to the South after California was admitted. They say slave labor also continued in the state for many years, often in remote areas.
"Some prominent African American leaders even went armed into isolated areas and liberated slaves," according to the California Historical Society. …